Metabolic Balance and Glucose Regulation Concept Map and Narrative
Introduction 
This research provides an evidence-based concept map that depicts a nursing care strategy for achieving optimal glycemic and metabolic balance in patients. The concept map encompasses critical diagnoses, nursing treatments, patient data, contributing factors, chances for inter-professional collaboration, and rationales and high-quality results. The narrative comprises additional evidence, contrasting data, and the extent of interprofessional associations in producing high-quality outcomes. It substantiates the validity and relevance of the evidence utilized in the concept map.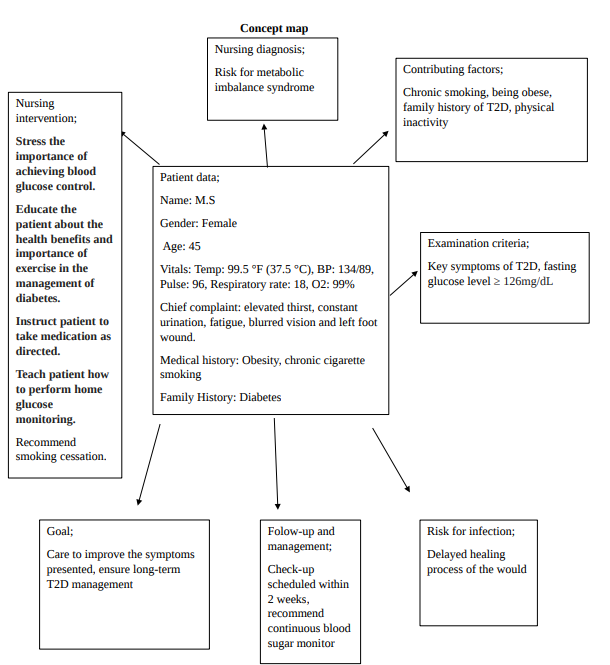 Additional Evidence
A 45-year-old woman named Margaret Summer (M.S) exclaimed that she is enduring extreme thirst, continuous urine, and drowsiness due to obscured vision. The patient proceeds to suffer symptoms that are suggestive of diabetes. During the patient's examination phase, a fasting glucose test verified the patient's condition. The test findings entailed a fasting glucose level of 125 mg/dl. Accordingly, when fasting glucose is 126 mg/dl or greater, type 2 diabetes is substantiated (Roden & Shulman, 2019). 
On a further medical examination and assessment, the patient admitted that she had sustained an injury that did not heal within three months of the accident from a morning walk. It has transpired in an unhealthy lifestyle since then. She has a BMI of 38.4, suggesting obesity, frequently inferred by a body mass index of 30.0 or higher (Aarestrup et al., 2019). Aside from that, she is clinically a chronic smoker. Based on the patient's medical history and physical examination, the suspected diagnosis rendered her at risk for Metabolic Imbalance Syndrome and diabetes. People with uncontrolled diabetes may develop poor circulation, which diminishes blood flow, making it harder for the wound to receive nutrients adequately. Cuts and wounds heal more slowly or do not heal at all. When an injury is in a dirty environment for an extended period, bacteria and viruses might contaminate the wound and develop an infection.
Interprofessional Strategies 
High-quality outcomes necessitate interprofessional collaboration between health care providers, patients, and their carers (Amalakuhan & Adams, 2015). Positive reinforcement and mutual feedback in an objective and non-discriminatory context are required. It is for successful collaborations. To assist in regulating glucose and metabolic balance, specific non-pharmacological and pharmacological interventions guided by an interprofessional collaborative practice are applied. It includes lifestyle and home remedy changes, timely blood glucose testing, and findings from laboratory professionals should be incorporated. Before implementing a therapy or process, the physician can consult with the patient, resulting in safe treatment outcomes, high quality, and efficiency of the treatment or procedure. The concept map can distinguish between interventions that are completed on their own and those that require interprofessional participation. 
It is created using an interdisciplinary method that encourages open communication and collaboration. When deciding on a treatment option, the individual client's medical history is highly considered. It includes whether the patient is allergic to certain medical paradigms. It can help the patient adhere to medical instructions more effectively and avoid conflicts. Metabolic Imbalance Syndrome (MIS) needs pharmacological intervention in which medications such as metformin is given. The non-pharmacological intervention includes lifestyle modifications such as healthy eating, physical activity, weight loss, and quitting smoking as recommended for therapy alternatives.
Value and Relevance of Evidence 
A standard nursing care plan's linear style may not allow for recording a comprehensive picture. Especially the patient's needs. It makes it difficult to see how patient data is linked together. On the other hand, a concept map allows for a systematic representation of psychological, physiological, and pathophysiological links and interactions. It results in better analysis. A concept map's minimal use of text allows for quick searching for terms related to the disorder or condition up for treatment. Health care workers may interact and evaluate patient data while also thinking critically using an evidence-based concept map with interprofessional techniques (Aein & Aliakbari, 2017). 
It provides a comprehensive approach to patient care planning and organization. Preparation and management of health data based on patient data, diagnoses, risk factors, search criteria, and the possibility of getting an illness. As a result, paying attention to the details is crucial. Diagnosis, nursing action, nursing objectives, follow-up, and management are all included in the second section of the concept map. You can use this to create a plan that follows a logical structure and encourages understanding in an organized care practice environment.
Conclusion 
Metabolic imbalance syndrome, which results in insulin resistance, is a long-term health issue that inflicts blood sugar or glucose levels to rise. The body cannot manufacture enough insulin at later stages of the condition (Chatterjee et al., 2017). Type 2 diabetes, if left untreated, can result in persistently elevated blood sugar levels, which can lead to a variety of acute symptoms and problems. Its characteristic includes high blood glucose levels and different body cells (Hurtado & Vella, 2019). Interprofessional strategies that could help aid comprehensive care to patients can improve their circumstances. Concept maps have been shown to encourage critical thinking and increase interdisciplinary teamwork in planning healthcare approaches (Wadas et al., 2020). It assists in gathering a complete picture of the patient's needs. 
As well as understanding the information making it a vital tool in building a management strategy. It is to achieve outstanding results. Experts benefit from the ideal sharing setting because it encourages critical thinking. It enables them to improve professional approaches to disease treatment, and collaboration among healthcare practitioners can help patients receive comprehensive care. 
References
Aarestrup, J., Bjerregaard, L. G., Gamborg, M., Ängquist, L., Tjønneland, A., Overvad, K., &
            Baker, J. L. (2016). Tracking of body mass index from 7 to 69 years of age. International
            Journal of Obesity, 40(9), 1376-1383.
Roden, M., & Shulman, G. I. (2019). The integrative biology of type 2 diabetes. Nature,
            576(7785), 51-60.
Wei, H., Corbett, R. W., Ray, J., & Wei, T. L. (2020). A culture of caring: the essence of
            interprofessional healthcare collaboration. Journal of Inter professional Care, 34(3), 324-
            331.
Amalakuhan, B., & Adams, S. G. (2015). Improving outcomes in chronic obstructive pulmonary
            disease: The role of the interprofessional approach. International Journal of Chronic
            Obstructive Pulmonary Disease, 10(1), 1225–1232.
Aein, F., & Aliakbari, F. (2017). Effectiveness of concept mapping and traditional linear nursing
            care plans on critical thinking skills
Chatterjee, S., Khunti, K., & Davies, M. J. (2017). Type 2 diabetes. The Lancet, 389(10085),
            2239-2251. Hurtado, M. D., & Vella, A. (2019). What is type 2 diabetes?. Medicine,
            47(1), 10-15.
Hurtado MD and Vella S. (2019). What is type 2 diabetes? Medicine 2019;47:10-5.
Wadas, T. M., Andrabi, M. S., & Appel, S. J. (2020). Moving beyond the individual level with       
            uncontrolled diabetes. The Journal for Nurse Practitioners, 16(8), 578–581. https://
            doi.org/10.1016/j.nurpra.2020.06.015